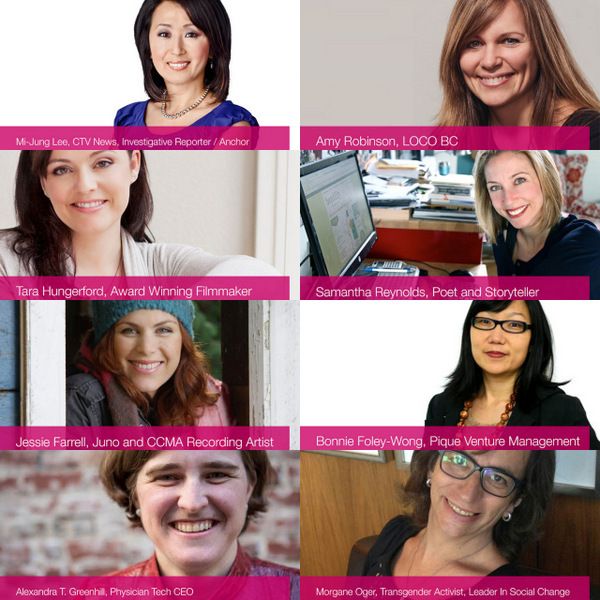 Pamela Chan, Blog Ambassador*, Leading Moms 2015
Be among an audience of other moms in a day filled with stories from moms making a difference in the arts, culture, health, community, business, and more. There will be a Q&A opportunity with the Leading Moms 2015 speakers.
This Friday, September 25th, Leading Moms 2015 will take place at Science World. If you haven't bought tickets yet, there are still tickets available.  But you might be wondering "should I go?" Or perhaps you've realized that you can't go.  In which case you'll be wondering how you could possibly be inspired by an event that you won't be attending.
So let's unpack this a little as there are many opportunities to be had this Friday when a large group of women get together to hear inspiring women speak about a broad range of topics.
Go If  You Can
If you have the opportunity to get downtown to Science World this Friday, you can still purchase tickets for the Leading Moms event.  Since the Skytrain runs right by Science World, you won't have to take a car and park just to attend.
I had the opportunity to attend last year and I still remember the main points that each speaker was talking about.  A year later, these women's stories, tips and advice pop into my head from time.  I enjoyed the opportunity to check out BC-based local foods vendors before the event and even had a chance to meet an attendee who was visiting from Australia.
Follow on Twitter
Amongst the attendees last year (and it will be the same this year), you will find many bloggers who will be tweeting out their favourite content from each talk along with photographs.  So if you can't attend the Leading Mom event, do follow along on Twitter using the #LMInspire hashtag.  You can check the hashtag later in the day, if you won't have the chance to follow along during the talks.   You can also interact with tweeters about their content later on in the day or even days later.
Some of this content will appear on Instagram too.
Discover New Contacts
By following along, you will also have a chance to discover the Twitter accounts of the vendors, speakers and local bloggers who often write about these types of events.  Reach out to these tweeps and engage online.  This is the best way to make a connection and to also encourage others to follow along with you in the future.
Attend a Lunch
After the Leading Moms event at Science World, there will be a networking lunch at nearby CRAFT restaurant.  There is also the opportunity to only attend the lunch. (This option could work for someone who works nearby but can't attend the speaker sessions.)
Read Up
A day – or a few days – later, you will start to see some blog posts appearing with the #LMInspire hashtag on Twitter and Facebook.  Attendees who feel inspired to do so usually do a write-up about the Leading Moms event so that they can share the ideas that inspired them.
You just never know what these moms and professionals will choose to highlight in their talks.  From last year's event, I even recall one simple tip about exercising.  Sometimes you just have to give a tablet to your children, put on your favourite exercise video and take some much needed "me time".  You have to take care of yourself too and take that time for what you need to do.
List of Speakers
Here is a list of the speakers who will present at Leading Moms 2015
Keynote Speaker: Mi-Jung Lee, CTV News, Investigative Reporter/Anchor
Alexandra T. Greenhill, Physician Tech CEO
Samantha Reynolds, Poet and Award Winning Storyteller
Jessie Farrell, Juno and CCMA Recording Artist
Bonnie Foley-Wong, Pique Venture Management
Tara Hungerford, Award Winning Film Maker
Morgane Oger, Leader in Social Change
As you can see from the titles these women hold and their bio descriptions, these scheduled talks have the potential to go off in many directions. One topic that they all have in common, of course, is that they are mothers.  In these talks you will hear how their professional and personal roles in their lives intersect with their role as mum.
Whether or not you can attend Leading Moms 2015, I hope you will be able to follow along with updates from the day. And don't forget to follow the Leading Moms Twitter and Facebook pages for future updates.
* During this year's Leading Moms event, I will be taking part in the Blog Ambassador programme.  You can read more about it here.
Related
Eventbrite link for buying tickets for Leading Moms 2015 and for the CRAFT lunch.
Leading Moms 2015 Event Page on Facebook
Important logistical information about the day. (Posted on Facebook.) Babies are welcome to attend with their moms. The doors will open at 8:30. Plan to be in your seat by 9:25.
Map showing the location of Science World in relation to the Main Street Skytrain station.