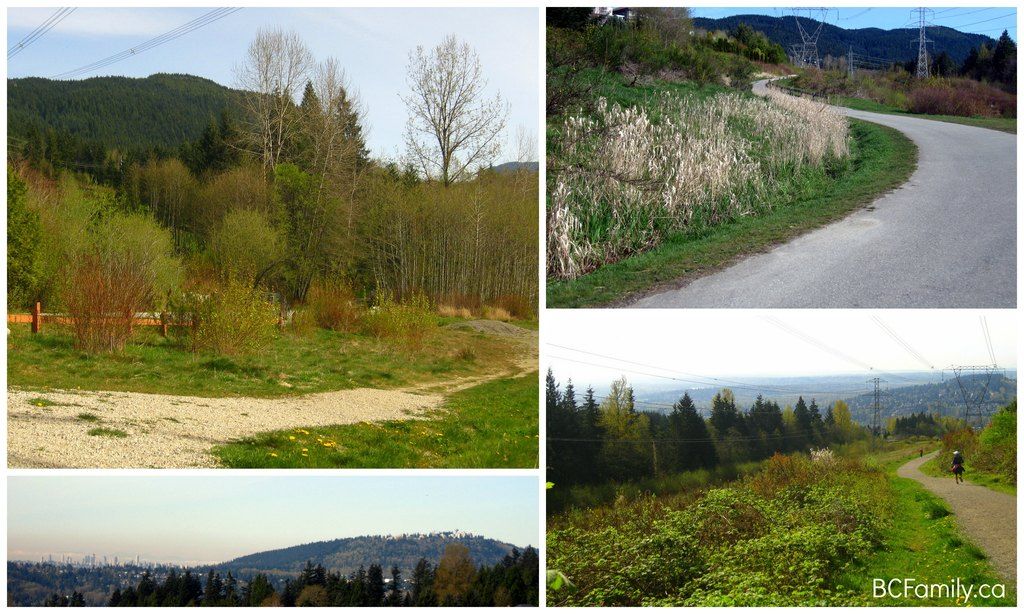 Top of the Coquitlam Crunch (top left).  Heading up the mountain (top right). View of Burnaby, including Metro Town and SFU on the right. (Bottom left). Heading down the path. (Bottom right.)
Pamela Chan, BCFamily.ca/Editorial
When I first read about the Coquitlam Crunch I had two thoughts:
How is it that I've lived here for three years and I haven't heard about this climb?
A mum is climbing up a mountain with a baby on her back!
For both of these reasons, when the Coquitlam Crunch landed on my radar it made a dramatic entrance.
In the past few months as the weather has slowly improved, I've been trying to think about inspiring ways to get in shape.  I like group classes at a gym but the idea of using our home gym bores me senseless. It has a weight machine, stationary bike and elliptical.  I'm embarrassed to admit that I have no interest to use this room.
The idea came to my mind that at least once a week I should throw myself up and down a mountain side.
Put step before step and just do it.
Sometimes I go alone and sometimes I go with a fellow mum from my children's school. If this idea sounds appealing but you're worried about personal security, you don't have to worry about being alone. This climb is well populated with climbers but isn't overwhelmingly busy.
If you haven't been up the Coquitlam Crunch, you might be having nervous visions based on what you've heard about the Grouse Grind.  Rest assured, you can pace yourself on this walk/hike up the mountainside.  There are well laid out gravel trails and a long series of newly constructed steps to help you on your journey.  The route follows a path of electrical towers placed on the side of the mountain.  You can drive to the base of the walk or take a bus to a bus stop near the trail.  If you're super keen, you can even extend your walk into the trails above the top of the climb.  But make sure you know where you are going! Never venture into trails at the edge of Tri-City or North Shore mountains without a map, charged cell phone, proper hiking gear, a clear idea of where you're going and (preferably) a hiking buddy.
The best part about this walk is that you can pace yourself.  There is plenty of room on the steps and trails to go at a slow to medium pace and stop to enjoy the view.  You will see climbers carrying babies and I imagine that on the weekend there are children and youth climbing the crunch as well.  I always go during the day, so I haven't encountered this crowd yet.
Roads cut through the route and support a steady stream of cars that are driving at a brisk pace.  You will need to cross them as you head towards the top of the climb.  Do cross the crosswalks with care and make sure that you "eyeball" all drivers as you cross the road.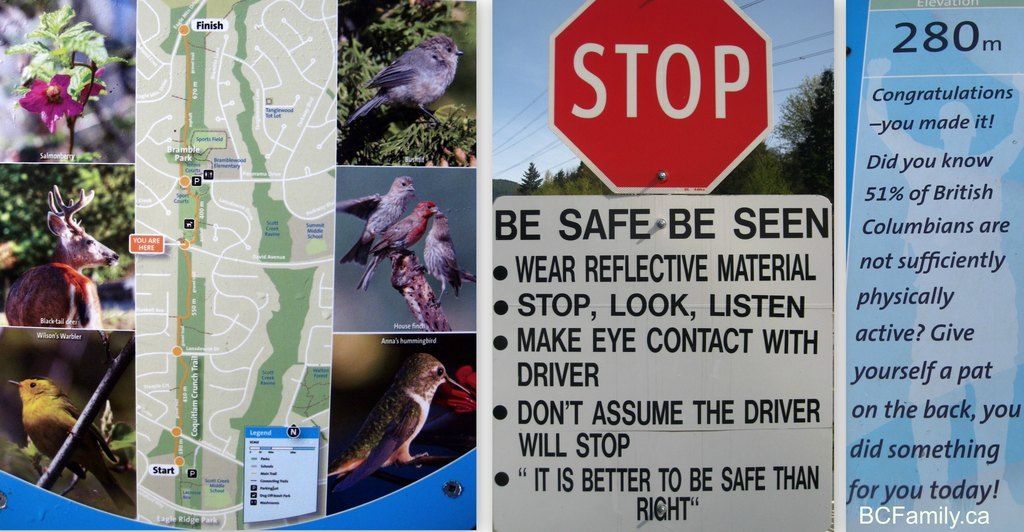 If you do go on the Coquitlam Crunch, here are some items that you can bring along to make your journey comfortable.  You want to bring as much as you will need, but no more.  I like to walk from the playground next to the soccer fields (just above Runnel road) and go right to the official end of the walk at the top.  Since I go at a modest pace, this takes me 1 1/2 hours.  Your time could be much slower if you walk or run briskly or if you start higher up.
Packing List
Comfortable backpack
Many go without one but I think it's a helpful accessory.
Water bottle
Snack/sports bar
Once you get to the top, it will take awhile before you reach the bottom again. This won't be the time to realize that you are hungry.
Comfortable running shoes.
Hiking boots aren't required for this type of walk but your footwear should have a good grip on the soles.
A hat.
As the weather gets warmer, you don't want to feel faint from the heat.  Most of the trail is in full sunlight.
Comfortable clothes.
Many of the people climbing the crunch are wearing exercise/yoga type pants and tops and jackets made for exercising.  A top that doesn't trap heat is the most important item. You also don't want a heavy base layer.  If you get too hot and can't remove your clothing to a comfortable base layer, you could get over heated.
Sunscreen.
You won't need to carry it with you but you should have it on you as it gets hotter.
A knee bandaid and antiseptic wipe.
It's always a good idea to have this compact 1st aid duo with you. You never know when you might slip and graze your knee.
Cellphone with good camera or digital camera.
There are good views of Mt. Baker, SFU and Metro Town.
Dogs
Dogs are welcome on the trail but they need to be on a leash and have a waste bag available for use.
Music.
Some people do listen to music as they walk to the top.  Personally I wouldn't listen to music because you can hear various types of bird songs all the way up to the top and back again.
Lunch/snack.
Depending on what time you go for a walk, you might want to stop at the top and enjoy a meal.  There are some garbage cans along the route.
Wind breaker.
It is best to dress in layers as you don't want to be chilled by a light wind.  A hood on your wind breaker will come in handy if there is an unexpected rainfall.  This is why I like to bring a back pack.
Have you had a chance to walkup the Coquitlam Crunch trail? You can comment about this posting on the BCFamily.ca Facebook page. Your contribution matters so don't be shy!
Related
More information about the Coquitlam Crunch.