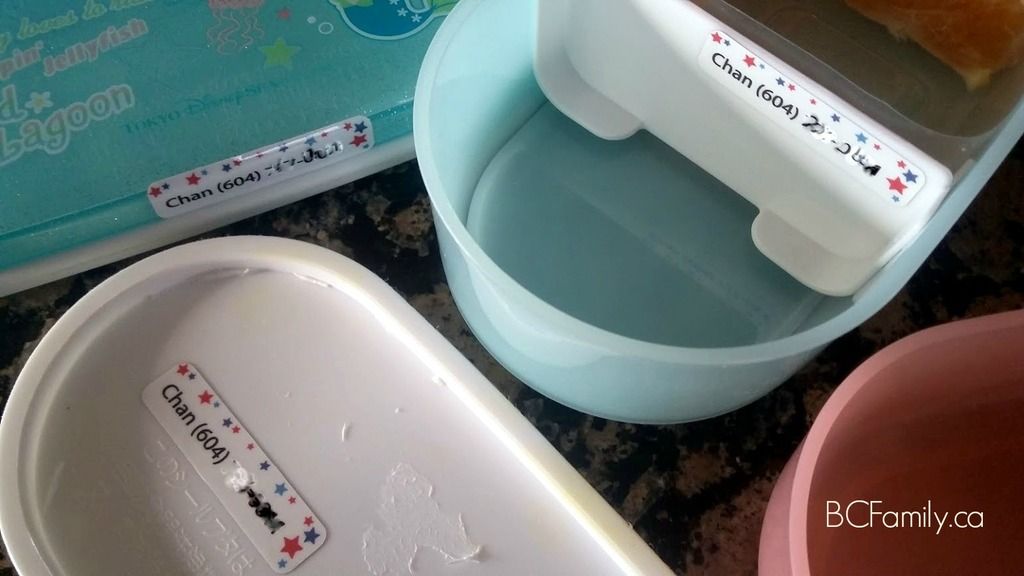 The numbers that were printed on our labels, right after out family name, are as clear as the other printing that you see on the labels depicted in this photo.  I've blurred the numbers in my photo editor for privacy reasons.
Pamela Chan, BCFamily.ca
School is winding down for the year just as camps and summer programmes are getting ready to launch.  Final Girl Guide and Scouting camps are coming up, and day and week long summer camps are booking up quickly.  As a mum of 6 year old twins, a top priority for me is to organize their belongings in such a way that they can look after them so that when they go to a camp or programme, all of their personal items come home.  To be honest, I don't want to be repeatedly spending money on replacing lost hats, hoodies, lunch boxes and water bottles.  I mention all of these items specifically because at one point during the last year these items were left behind at school by one of my children.
At our home, there are two ways that I label clothes and personal items.  I uses painter's tape and a waterproof Sharpie or I write directly on a label.  The painter's tape works for awhile.  The writing on labels idea isn't quite as neat and easy to read.
See previous note RE blurred numbers.

I know that you can order labels but to be honest, I never really gave it much thought.  I think one of the reasons is maybe because – if I have to be honest here – I'm a bit lazy. I just never bothered to click on a website and put my head around custom made labels.
For this reason, I welcomed an E-mail from the people at Emily Press with an invitation to try out their label system just in time for camp season.
What We Received
I went onto the Emily Press Labels website and chose the Stars Blue Camp set because I wanted a unisex label that I could use with either my son or daughter.  Of course you could also go for a specific pattern that is most suited to one gender or the other.   I requested that my family last name and phone number be placed on the label.  If you need a longer name placed on a label and it's not fitting in the template, make a note at checkout (in step 2) and provide contact information.
The booklet we received has 122 labels on three sheets, in between a front and back cover.  The package includes:
2 extra large labels
5 classic labels (regular size)
8 shoe labels
30 slim labels
77 Tag-a-Tag™ Peel and Stick Clothing labels
See previous note RE blurred numbers.
The first page is a general usage label featuring the large and slim labels.  The second page has the shoe labels and the last page has the clothing labels.
How We Used the Labels
It's important to take the time to understand the different types of labels.   Each page and the inside of the back cover have instructions about usage. The first page of the booklet has labels that are ideal for water bottles, a pencil case or books, for example.  The second page features labels for shoes and the final page has small labels for clothing or cloth items such as a lunch bag. To different degrees, all of these labels will end up being washed in some way.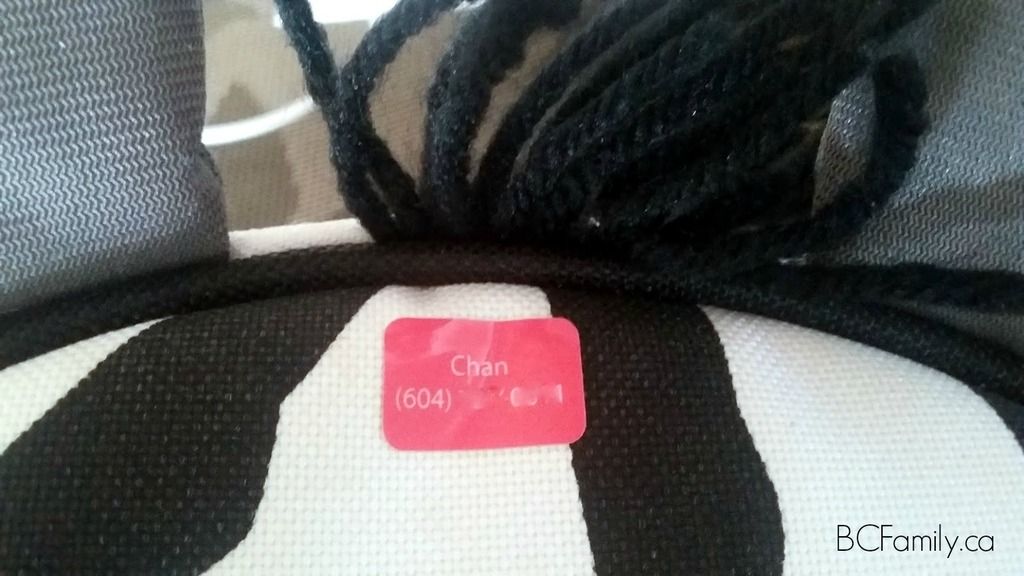 See previous note RE blurred numbers.
I plastered all of the parts of my children's lunch containers and water bottles with the regular usage labels. The shoe labels went inside the shoes and the clothing labels were placed on outdoor jackets, lunch boxes and hats.  The Tag-a-Tag™ labels are designed to be placed on the clothing labels of clothes.  I also tried them on a lunch bag that had a similar texture to a clothing label.  Emily Press also makes iron on labels which are recommended for longer term use.
When I put the order in, online, I chose to use my family name and phone number.  This is an option if you would like to order labels and use them for more than one child.
Here are some suggestions that Emily Press makes for items that could use a label:
USB sticks, iPads, laptops, phones, markers, pencils, rulers, binders, scissors and other school supplies.  Flashlights, coolers, toothbrushes, toiletries and other camp gear.  Lunch boxes, bento box components, food containers, water bottles and inside reusable snack bags.
Impression About Quality
Emily Press Labels is a Vancouver-based company that was launched in 2010.  The labels have been tested and have won awards.  Their main features are that they are waterproof and environmentally friendly. I knew the company had a strong reputation but I still wanted to test them out myself.  I've been running the food storage items through both hand washing and dishwasher washing.  Meanwhile the clothing has been run through the laundry routine and the lunch bags have been washed.  The labels stayed firm where they had been placed.
They are non-PVC, BPA-free and as per CPSIA standards they're lead safe and phthalate-free. They are made in North America and we've also used packaging that includes recycled content. (Emily Press)
See previous note RE blurred numbers.
My Conclusion
Before I received this booklet of labels, I had already started the habit of labeling everything. The items listed above that my children lost all came back to us because there were clear labels on the items.  This included a lost lunch kit.  I'm happy that I didn't have to replace all of the contents.  With camp season coming up, the need to stay organized continues.  No rest for the busy parent!
The Emily Press Labels site has other types of labels that you might want to think about such as allergy labels, spice labels and write your own labels.  Standard Free Shipping is available for shoppers in the US and Canada.
If you're looking to try the Emily Press labels, I'd recommend looking at their clothing labels and large and slim labels in particular.
Related
Spring Break camp tips and tricks from Emily Press that can be used throughout the year for camp time.

Disclosure: I received a sample of a product so that I could write this review. I did not receive any other compensation. All opinions and ideas stated in this review are my own.