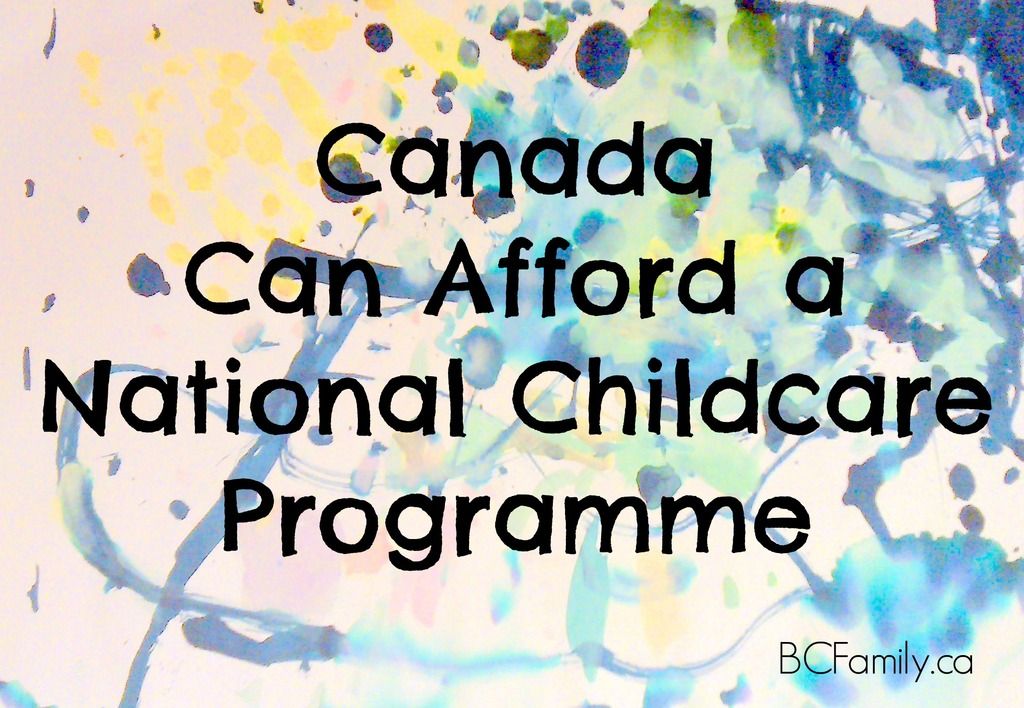 Pamela Chan, Editorial/BCFamily.ca
A long election campaign is over and Canada has a new governing party that has won a majority government.  As social media discussions about politics slow down and Canada moves forward, it's the perfect time to look at where we are at with proposed plans for a national childcare programme.
"We can't afford a government funded childcare programme." (Canadian premier speaking with women who work in social media.)
Really?
In Ontario, for example, an "investment of $1 [into childcare programmes] results in an economic output of $2.27."(1) We can add to this calculation the understanding that affordable and accessible high quality (AAHQ) childcare programmes enable parents –  most often female – who are at home with their children to enter/reenter the workforce.
"I've seen the results of Lean In.  I think it is terrific, but you cannot lean in too far without a really strong support system, or you will tip over."  Anne-Marie Slaughter referring to Sheryl Sandberg's "Lean In" message. (Anne-Marie Slaughter via CBC The Current)
AAHQ childcare programmes help women to avoid dropping out of the workforce – a common reality, currently, that results in reentry challenges later on.  "Returnship" programmes, as proposed by Anne-Marie Slaughter*, are not currently the norm in Canada. Here in British Columbia, the retention of women in the workforce who are mothers, and support for their return into career-track jobs, is a hot topic.  These two challenges affect single and dual income households headed by parents who are coping with a high cost of living (high level of housing related debt) and numerous work-related stresses such as cost of daycare; access to licensed AAHQ childcare; transit challenges; and, inflexible work schedules.
"Our long-term goal is a high-quality, affordable early childhood learning and care space for every Canadian family that wants one. A federal government cannot do this on its own. That's why we will work in close collaboration with all governments to achieve this.  Too often, working families are stuck on waiting lists for years before a child care space opens up. […] Giving our kids the strongest possible start boosts their development throughout childhood and increases their chance of a healthy and successful life." (Michael Ignatieff, Liberal Party Leader, March, 2011) (2)
Access to full-time AAHQ childcare has numerous benefits for children from all socio-economic backgrounds – including a positive effect on the development of cognitive abilities and improved economic and social outcomes.  Traditionally this has been the main focus of conversations about the need for a national childcare programme. (3)
"If parents cannot achieve their desired work/family life balance, not only is their welfare lower but economic development is also curtailed through reduced labour supply by parents. A reduction of birth rates has obvious implications for future labour supply as well as for the financial sustainability of social protection systems. As parenting is also crucial to child development, and thus the shape of future societies, policy makers have many reasons to want to help parents find a better work/family balance." (Babies and Bosses, OECD report) (4)
We know that more than ever female entrepreneurs in Canada are creating businesses and employing others. Think of the possibilities for growth of Canada's economy if more women enter/reenter the workforce.
"The time is now for women to break through as business leaders as their potential contribution to the Canadian economy is significant. Royal Bank of Canada estimated that by 2011, female small- and medium-sized businesses have already contributed $148-billion in economic activity. If this number increased by just 10 per cent, a staggering $198-billion would be added to the economy over the next decade." (Ruta Aidis, contributor to Globe and Mail)
The economic benefit of increasing the number of women in the workforce isn't just an issue of increased tax revenue.  This increase will also result in the creation of new jobs.  These economic benefits help all Canadians – not just those who have young children. "More effective public policies which do better for families can have large private and public pay-offs. […][Family policy] is also about promoting various health and education aspects of child well-being, about reducing barriers to parental employment and helping parents to provide for their children and easing family poverty risks. Increased parental employment will also further economic growth and improve the financial sustainability of social protection systems in the face of population aging." (Doing Better For Families, OECD, 2011) (5)
A new federal governing party in Canada means that it's time for a fresh conversation about access to AAHQ childcare programmes across the country.  The majority of MPs in Canada, as of October, 2015, are members of the governing Liberal party. 
Will you share a link to this post with your nearest Liberal MP, combined with your own personal story and feedback?
Are you ready to help change the conversation in Ottawa about the need for a national childcare programme in Canada?

You can comment about this posting using
the comment function below or on the BCFamily.ca Facebook page.
Your contribution matters so don't be shy!
Related
Childcare Research and Resource Unit
Sharon Gregson on Twitter (Advocate for the $10aDay Child Care Plan based in British Columbia)
Anne-Marie Slaughter on Work-Life Balance Without the Struggle (Listen Here)
The pluses and minuses of returnships. (CNN)
* BCFamily belongs to the Book Depository Affiliate programme.
References
(1) County of Wellington Childcare Services (2012). The Economic Welfare of Childcare. Retrieved September 20, 2015, from http://www.oise.utoronto.ca/atkinson/UserFiles/File/News/The_Economic_Value_of_Child_Care_January2012.pdf
(2) Childcare Research and Resources Unit (2011).  Michael Ignatieff Announces Early Childhood Learning and Care Fund. Retrieved October 15, 2015 from http://www.childcarecanada.org/documents/research-policy-practice/11/04/michael-ignatieff-announces-early-childhood-learning-and-ca
(3) Childcare Human Resources Sector Council (2009). Literature Review of Socio-Economic Effects and Net Benefit:  Understanding and Addressing Workforce Shortages in Early Childhood Education and Care (ECEC) Project. Retrieved October, 10, 2015 from http://www.ccsc-cssge.ca/sites/default/files/uploads/Projects-Pubs-Docs/2.8-WFS_LitSocioMain_Eng.pdf
(4) OECD (2009). Babies and Bosses –  Reconciling Work and Family Life: A Synthesis of Findings for OECD Countries.  Retrieved August 15, 2015 from http://www.oecd.org/els/family/babiesandbosses-reconcilingworkandfamilylifeasynthesisoffindingsforoecdcountries.htm
(5) OECD (2011). Doing Better For Families.  Retrieved August 15, 2015 from http://www.oecd.org/social/soc/doingbetterforfamilies.htm